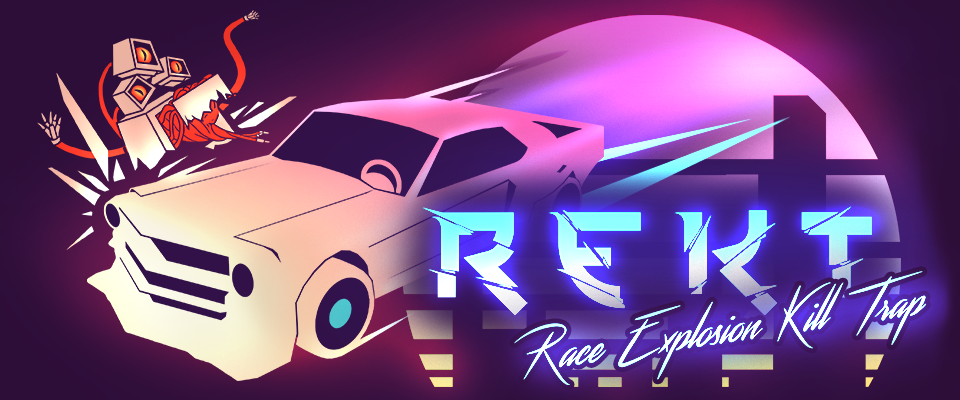 REKT
A downloadable game for Windows
REKT is a Graduation Video Game Prototype - June, 2019

PITCH

You are Synthia, an aggressive and muscular synthwave car. She has a mind of her own like KITT from Knight Rider or John Carpenter's Christine. Your mission as Synthia is to stop an invasion by retro 80s electronics gadgets to save the town of Neo-Oslo.

Gameplay :
DETAILS


Developer : VROUM Studio (Student Project) at ArtFX – Montpellier (France)
Release : June 2019
Game plateform : PC
Genre : Racing / Tower Defense
Language : English
Classification : PEGI 12 (Not Officialy Rated)

CREDITS

FOURNIER Antoine – Producer Management/Game Design/Communication
BEAUGELIN Timothé – 3D Artist Technical Art/Gameplay Programmer/Car Modelisation
LANDIER Victor – 3D Artist FX/Lighting
CHANE-HUNE Thomas –2D Artist UI Artist
BRULARD Nicolas – 2D Artist Communication Assets/2D Assets
BABIKIAN Lionel – 2D Artist Creature Design
DEBOUT Samuel – Sound Designer Sound Design/Music
MINGAM Antonin – Sound Designer Sound Design
SCHABO Léa – Voice Actress Synthia Voices
Download
Download
https://drive.google.com/drive/folders/13OLAgj0UGZ6P_WjoYh44uZsJzG-GniZn
External
Install instructions
1 - Unzip the folder
2 - Launch the ".exe" file.
3 - Enjoy and comment!

Comments
Log in with itch.io to leave a comment.
It really needs control settings or at least a list of controls
Try it, quite good, but only one track, i want more about this game